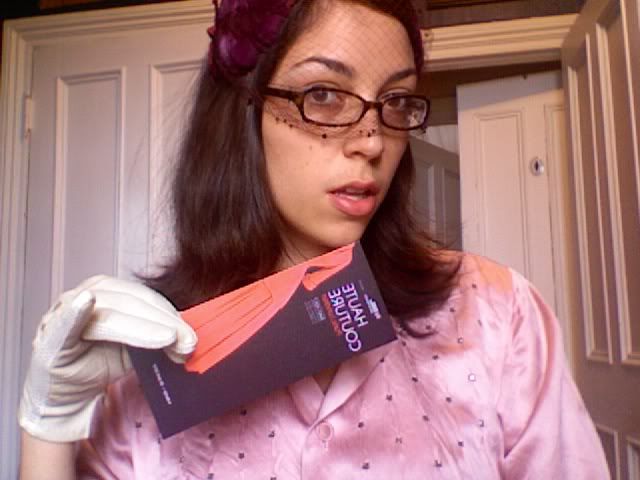 on friday, my friend anne-marie and i headed to la
musée des beaux-arts
to check out an exhibit i've been excited about for months now. "
Haute couture. Paris, Londres, 1947-1957. L'âge d'or.
" enough said, right? i decided to get dressed to the nines (i wore
this dress
, my new pair of heels my mother bought me, backseam stockings, my favourite new pair of gloves and of course my fur trimmed coat) and check it out for myself. but this post isn't about the exhibit! i'm still working on that.
this week is going to be a productive one; i've decided it so. my boss at the used bookstore cut my hours, my student who i normally teach twice a week is out of town, so i decided to figure out a good way to use all that free time in productive ways. this means: wrapping up all the post- vagina monologues business, writing for this blog, working on articles for calls for submissions for zines/blogs/etc, editing photos, responding to all your (amazing!) comments, scanning found photos and other things, as well as, last, but not least, updating my
etsy store
. phew! it's going to be a
good
week.
to top it off, this coming saturday my friend anne-marie is giving me and a few of her friends a lift to montreal to go check out our very first real-life roller derby:
BEASTS OF THE EAST.
we are really excited and there are even rumours of starting a flat-track roller derby here in québec city. we'll see what happens!
here are some projects ideas i am working on that i hope to share with you guys in the near future, just for a little tease.
fashion as

objet d'art

: the place of fashion in museums
class, race, gender reflections on the haute couture exhibit
in like a lamb, out like a lion: outfits from winter 09-10 (it snowed

yesterday

)
reflections on my tumultuous relationship with my digital camera
the story of my hair