on my way home from my friend karina's place a month or so ago, i took a lot of photos in the empty streets late at night (or rather, early in the morning) as i often do. this was after our second dress rehearsal.
for the vagina monologues i helped organize and performed in in early march, we decided everyone would wear red and/or black for our stage performances (it's a pretty easy concept). when we decided this, i thought about what i could potentially wear. a few years back, a simple red and black colour combination was one of my favourites and i always found it was an effortless way to look nicely put together. this time around, though, i found myself either wanting to dress entirely in black or entirely in red. my character in the monologues is angry, and this being one of my first acting experiences, i was very concerned with the whole "getting into character" thing, and clothing would be a very important part of this. i asked myself, should i wear all red, because red is associated with anger? but red is also very sexual and sexy, maybe
too
sexy for my character...
so in the weeks leading up to our dress rehearsals, hemming and hawing over what i thought my character would wear and trying to find a balance with a) what was in my closet and b) what i would be comfortable performing in, i started wearing more red and black in my every day life. i dug out my red coat, which was perfectly timed since the weather was warming up a bit. i added my very favourite black mourning brooch and went out into the world, postering for our event.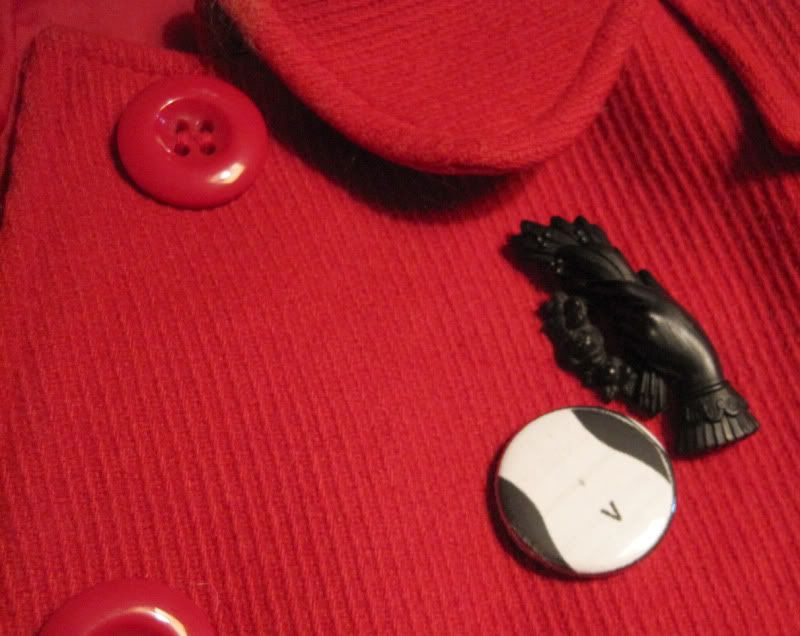 a better picture of my beloved mourning brooch, which i learned about
here.
as our debut performance drew nearer, i finally settled on two dresses: both vintage black lace dresses i love and feel comfortable in, paired with red tights with black designs worn over top. and of course, my badass boots. i wore red heels for one practice but everyone told me i simply had to wear the boots. they really went well with my character.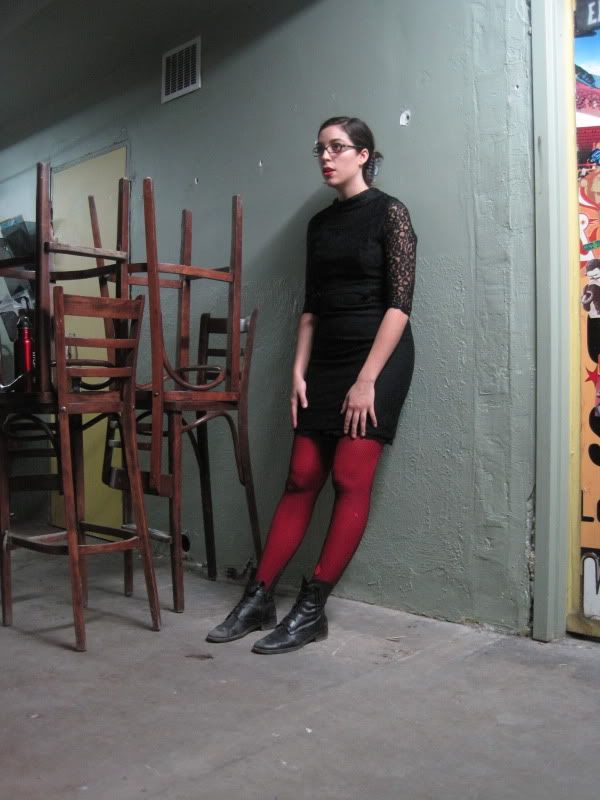 1960s lace dress with a backwards collar. it's been with me for five years now, i think.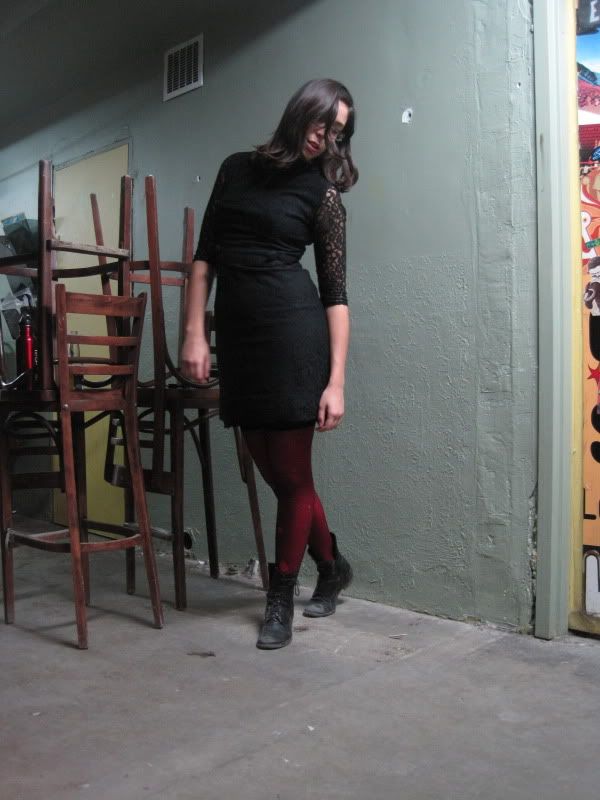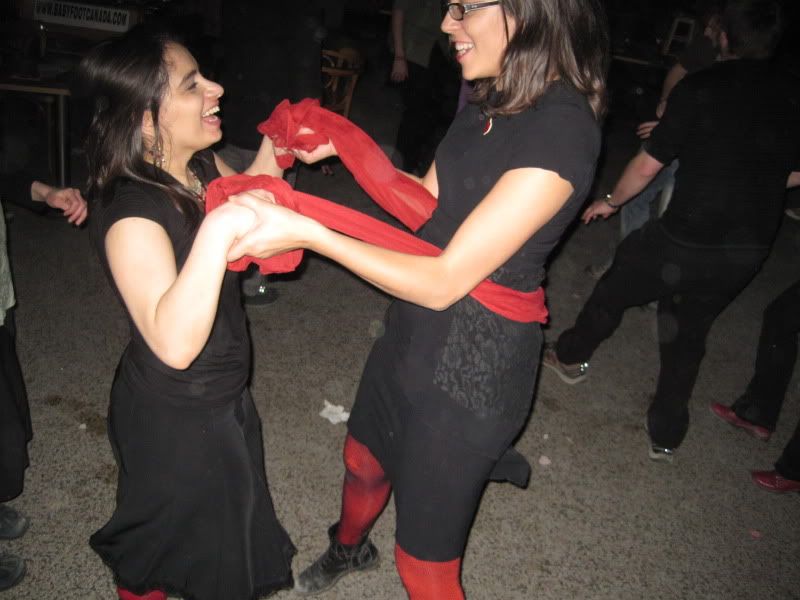 the second black dress i wore, which isn't seen very well in this photo! but i added a little heart pin that says "carmen" on it to queer it up a bit. (
sadly i do not have a lover named carmen, but i do have a good friend of the same name!
) and that lovely person dancing with me is karina, who kicked ass with her ode to cunt.
you can see the dress better in my performance (which i've been so indecisive about posting publicly... but if you guys really want to see it i'll post it).
and to wrap up and celebrate the end of the vagina monologues, we met up at the local gay bar for some karaoke. what a night! it was so much fun. it wasn't until i was on my way out the door that i realized i had unintentionally dressed in red and black again!
red followed me that night; went for dinner at a friend's place, which has a red door. was offered red wine to accompany the food. and as i headed out the door, i noticed red flashing lights, which, in québec city, mean you aren't allowed to park because the snowplows will be out.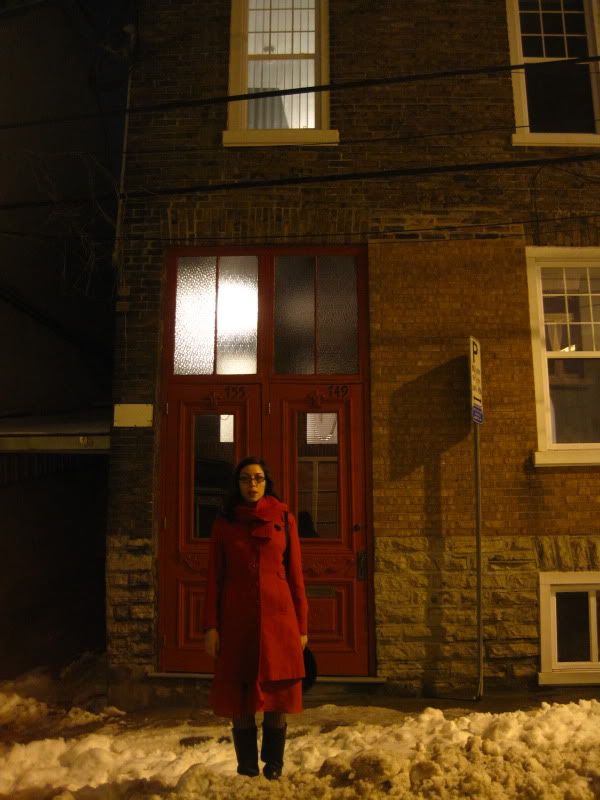 in conclusion: i quite like red and black together.