i'm sick in bed, catching up some reading, in books and online. i've been fighting a cold for about a week now, but decided to get dressed up for halloween simply because i knew i would have regretted it had i stayed in bed. i'll share more pictures of my other costume plus some more ones i took of being the shining twins, but in the meantime i wanted to talk a bit about halloween some more.
i went out to two or three parties over the course of the weekend, and yes, of course, i encountered some truly problematic costumes. i counted a good four white girls in bastardized headdresses and warpaint, and had to share the same space as a stranger dressed as a blackface. to top it off, a party i attended awarded a man wearing a turban as "best costume," and was yelling obnoxiously about being a terrorist the entire time i was there. i felt uncomfortable the entire time, but was too sick and tired to engage with him. so, i left.
and that's what most of us do, i think. we leave. if we feel up to it, we try to challenge these people and at the very least ask them why they chose their costume. if they even notice that they are engaging in race-drag, blackface, etc.
I am a human being.

I am not your Halloween costume.

I am not your party theme.

I am not your mascot.

I am not your costume.
this has been making the rounds on
tumblr
, originally posted by
kkeilhauer
. i wish there was more information out there about the context, the people in the photo, where it was taken, etc. but the message behind it is pretty simple and great: other people's cultures are not fair game for halloween costumes, theme parties, etc. the dehumanizing effect these kinds of actions have on actual human beings is something we all too often lose sight of.
sheresists
is a really intelligent and amazing activist based in guelph, and she shared her
thoughts on racist costumes
. on the note of halloween costumes, she argues that these costumes can be worse than
culturally appropriative acts
.
You're not just taking one thing (for example, a war bonnet) from another culture, you're trying to mimic an entire group's racial identity when you 'dress up' as them. These costumes are often borrowed from pre-set stereotypes about what another culture "looks like," how they dress, and how they act.

What people fail to understand is that these stereotypes are not benign.

They have real, material effects on people's lives and their ability to move throughout the world. They both reinforce and are embedded in relationships and histories of power.
...When you put on a racist costume (especially sexy 'ethnic' costumes like the sexy Asian girl costume), you're speaking back to histories of colonization and exploitation and you're reinforcing the ideologies that legitimize violent institutions that abuse and sexually exploit women of colour (though, racist costumes speak to a history of colonizing and othering people of colour in general). Whatever your intentions, by sexualizing a different ethnic group, you are saying that it's okay to fetishize certain groups of people and you're reaffirming that they are, in fact sexualized and consumable beings. You may think it's fun, funny, or even ironic, but you probably haven't experienced the effects of these stereotypes.
she goes on to describe her experiences with these stereotypes, and it's difficult (but important) to read. unfortunately it's not the first time i've heard stories like hers... and i love that she challenges these actions, wants to move forward, and foster change.
now, i thought long and hard before sharing these thoughts and links. did i really want to hold a magnifying glass to racist halloween costumes? is it even worth my time, or my readers time for that matter, to point out that paris hilton - privilege personified - is wearing a racist costume? and i'm not alone in feeling this way. this year,
angry asian man
asked his readers to share good costumes, instead of railing about the terrible ones:
every year, I write about all the obnoxious, awful racist Asian-themed costumes that are out there. I'm tired of that. I'd like to write about some of the cool ones.
i'm going to take a page from his book. to end on a happy note, i want to share some costumes that made me smile really big. share your favourites in the comments, too!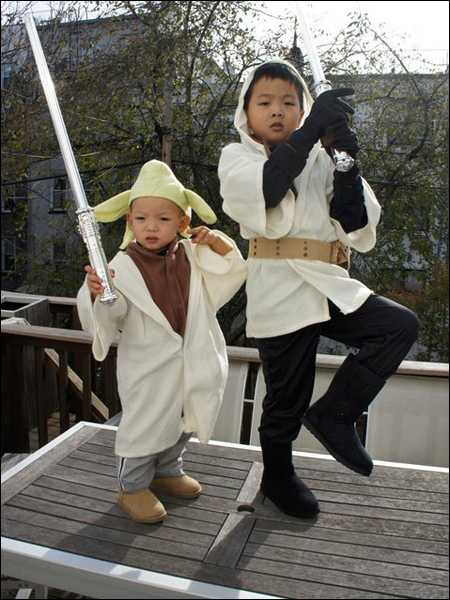 seriously baby yoda, you are KILLING me!
janelle monae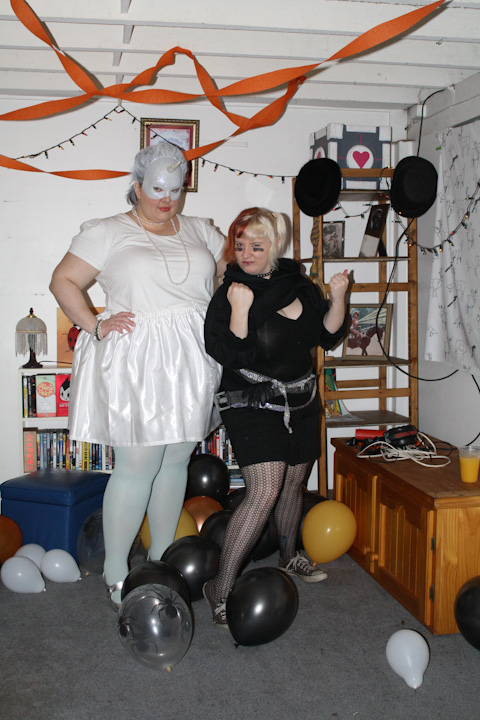 Natalie
as an Inappropriate Unicorn and her friend Heather as
Rosie Ritcher
from Scott Pilgrim
Pixel Girl
wins points for massive creativity and amazing execution
bra-burning second wavers!
radical lesbian separatists
ingrid
, a friend of a friend of mine, had the most amazing ursula costume!
so, what did you get dressed up as this year for halloween? what are the best costumes you've seen, in person and online? share links in the comments!
LINKS:
One Woman's Costume is another woman's nightmare
by Whitney Teal at
Change.org
My thoughts on racist costumes
by sheresists
The Halloween fallout begins
by Native Appropriations
Offensive or Awesome Halloween costumes?
at
I Am KoreAm
Why you (or your dog) shouldn't dress up as Antoine Dodson for Halloween
at Shameless
Great costumes from angry asian man readers