consider this an homage to a jacket, to a season, and to a stylish group of badass ladies known as the teddy girls.

after a week of intense heat at the very end of august (very unusual and quite historic for québec city) we have finally been blessed with a cool autumn breeze in the air. as much as i love summer, i must say sartorially fall has always been my favourite. it's so much fun to play with colours, layers, textures... ah, tweed, plaid, how i missed thee.
today was one of those lovely early fall days, and so i dug deep in my closet to fully enjoy the autumn air while i ran some errands. here's what i came up with.
.the outfit.

(i feel like i look a wee bit... stoned in this photo)
it's moments like these where i love volunteering in a thrift store; that saddle bag and pair of high waisted pants are my rewards.
the shoulders! they are just the perfect cut for me.
and even the namesake is perfection; jules was a nickname of mine when i was younger.
this is potentially one of the best items in my closet; it can make a dress more casual, a short and pants outfit fancier, and fits me
perfectly
. i used to think the sleeves were too short but now i understand. when i found it years ago, i really did not appreciate the treasure i had found. i think i paid $2 for it in a thrift store in trenton, or was it peterborough? by any means, it didn't really suit my style back in 2004, but now that i am a bit older and a little less afraid of looking "serious", every fall i look forward to pulling it out and pairing it with new things. the combinations are really endless. here are two ways i wore it back in the fall of 2008.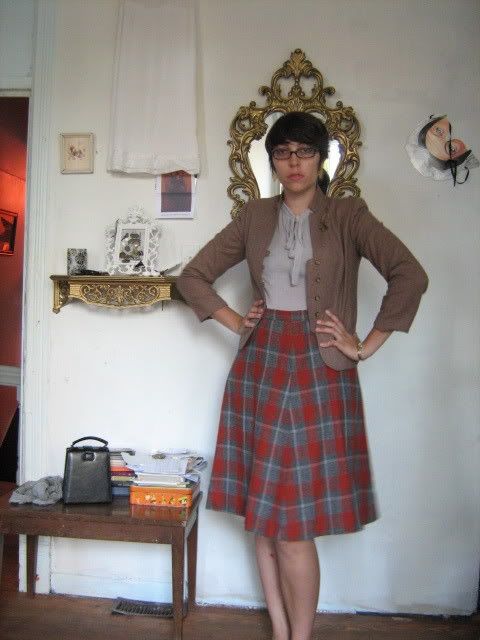 teddy girls:
Teddy Girl, 1955. by Ken Russell
all photos by filmmaker and photographer
Ken Russell
how can you see these photos and NOT want to look exactly like them? they have so much attitude, yet at the same time so much joy. i especially love how in the first and last photos, the boys are almost jealous of all the attention the teddy girls are getting, as if they wish they could be in their "club." sorry boys.
here is part of the essay that accompanied the publication of these images in picture post magazine:
These photos were taken in January 1955 in Walthamstow, Poplar and North Kensington: solidly working class areas of London. The girls photographed embody three of the great issues of the time; class, gender and youth. They are rejecting the drab costumes of class conformity and post-war austerity.

They are pioneers for women looking beyond home for a place to be valued.

They are young girls blazing a trail that will be followed by youth cultures for decades to come.

But somehow Teddy Girls as a group remain historically almost invisible.
how great is that! pretty amazing if you ask me. i wish i could have known some of those teddy girls... hell, maybe some one you brits might have had a relative who was a teddy girl! ask around.
clearly i am not the only person to have ever been inspired by the style of these ferocious femmes. back in 2006,
bust
magazine had a teddy girls themed photoshoot that i enjoyed so much
i scanned
to share with friends. here are two: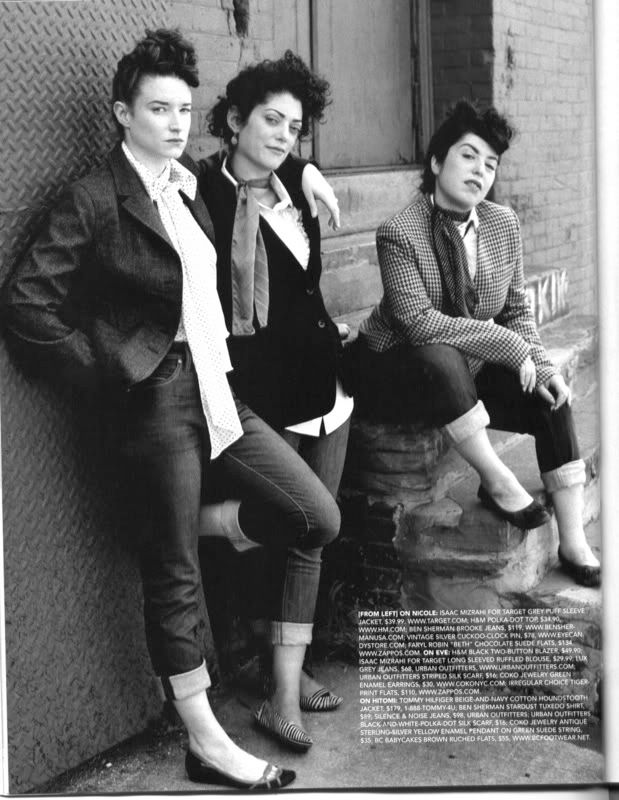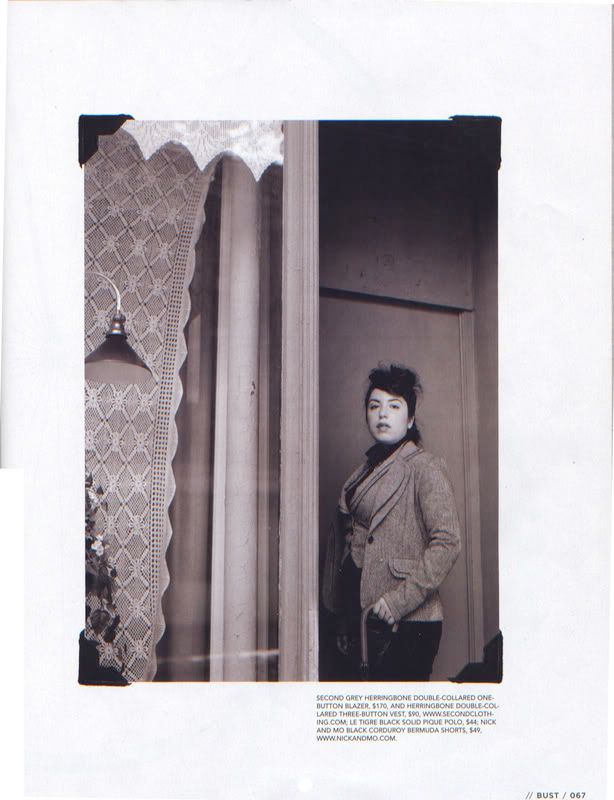 now if only i could get someone to do my hair, the look would be complete.