this weekend, i was walking down la rue charest on a sunny afternoon, and an older woman caught my eye. she was a waitress leaning out of a window, speaking with a friend. her hair was bright white, except for a streak of neon pink and a dash of purple. on her left upper forearm, there was a small tattoo of a little unicorn's head in black and white. i was in awe. i find it so incredibly refreshing to see older women not get trapped into those boring "how to dress at 40, 50, and 60" scripts that all too many "women's magazines" promote, but at the same time can you blame those who do subscribe to that ideology?
just by taking a quick look at mainstream fashion magazines, we see that the message is overwhelming the same: you are either dressing too young or dressing too old, especially if you are over the age of 30. since you are no longer simply a sex object (with the assumption being that you are a hot sexual nubile young thing in your teens and twenties, but when you're in your thirties you are either a mother, wife, or career woman, or better yet all three!) then you're not really worth looking at or pandering to. advertisers will try and sell you the idea that if you buy our clothes, you will look as young as our models, you will relive your youth, etc. etc, because aging/being old is so completely horrible.
of course, there are exceptions to this boring sexist ageist script. every once in a while fashion magazines turn the attention on their own, like
grace coddington
, and the runway history makers like
linda evangelista
, naomi, and kate. but even while purporting to celebrate women of "all shapes and sizes," we all know this is a joke. even with articles hidden in the back, or one editorial that celebrates an actress or singer who is in her forties, older women are constantly being erased or worse, policed. year round, we see that their covers (think of elle, vogue, allure, etc.) feature almost exclusively women in their late teens and early twenties on their covers. the exception, of course, is made when they publish their "age" issue, which now shows skinny, blonde, white women in their
30s
! how revolutionary.
but back to my love for the style of many older women i pass on the street, at thrift stores, at the grocery store. one of the main reasons i believe fashion magazines don't pay attention to older women on a regular basis is because they know most of them simply do not give a shit anymore. clearly this is not universally true, but for the most part i think it is easier for younger women to put all the emphasis on their appearance and to buy into the scripts fashion magazines sell them because they are the target audience. they are being pandered to, they see themselves, or at least someone they could aspire to look and/or dress like all the time so it is easier to buy into those illusions and fantasies. based on what many older women have told me, and the conversations i've had with them about fashion and clothing, you often have a better idea of what you want, like, and need which makes it all the more simple to not give a shit about what a fashion magazine has to say about your choices.
seeing this stylish woman this weekend was not the first time i have loved the style, demeanor, and fashion of a person twice, or perhaps even thrice my age, and it's a question that has been on my mind lately. my friend
anne-marie
has been
expressing
frustration
at ageism in the fashion and beauty industry. around the same time, jezebel
posted
about a german magazine called brigitte which recently stopped using professional models, and now often posts the age of the "real" women participating in their photoshoots. last but not least,
hellovagina
was posting some
amazing
photos
of
stylish older ladies
on their tumblr.
but honestly? the fashion blogging world isn't much better than the fashion magazine industry when it comes to representing older women. anyone who takes a quick glance at
fashion bloggers
will see that it is a relatively homogenous group; almost entirely white, mostly female, relatively thin (at least falling into the "straight" size category), able-bodied and
young.
14 (including tavi) to about 30 years old, max. there are a lot of factors that could lead to this (it's a new technology, youth-target audience, etc), but i'll leave it at that seeing as this post is
not
about deconstructing fashion bloggers or even criticizing them. rather, i want to call attention to how, in some ways, the fashion blogosphere has created at least a
small
space for us to call attention to and celebrate stylish older women.
to cut to the chase, here are some pictures of some particularly stylish and savvy older women.
iris apfel
chantal thomas (loving everything except for the shoes)
lynn yaeger
some photos from one of my favourite street fashion blogs,
hel-looks
.
and i even found some from a few of my favourite photographers:
even the most recent CocoRosie video indulges my love:
as my wonderful friend
iris says
, "i don't plan on my twenties being my most fashionable decade."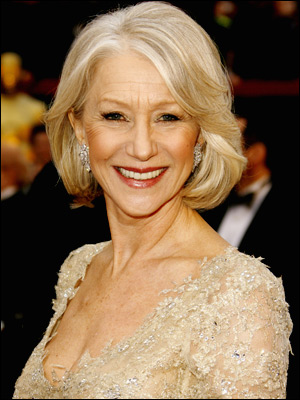 the wonderful helen mirren.
but before i go, i want to make one thing particularly clear if i haven't already; i want to celebrate older ladies style, not police them. i feel like the only conversations we have about older women and their relationship to fashion is how to look more youthful, how to hide the fact that they are older, etc. but i like to think that most of the women whom i posted photos of are the kind of women who say fuck off to those rules. they are the ones who have gotten to a point where they simply do not give a fuck what a fashion magazine has to say about their choice of clothing, or their bodies, etc.
but don't let me have the final word! who are your favourite stylish older ladies? are your grandmothers particularly stylish? share photos! links!
my three all-time favourite stylish older ladies:
SHITTY LINKS: